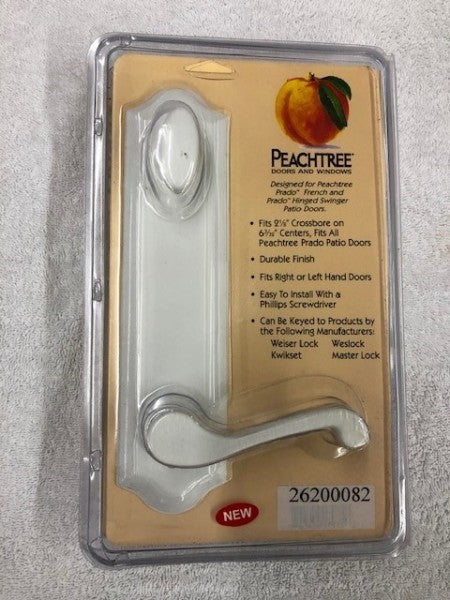 Peachtree Prado Handleset for Hinged Doors
Sold out
Original price
$196.99
-
Original price
$239.99
Peachtree Prado Hinged Patio Door Hardware Handle Set with Spring and Deadbolt Latch
This part replaces original Peachtree Part # 06200031
This is the handle set for the single point lock. If your door has 3 locking points on it, this is NOT the handle for you. You have a multipoint lock that requires a different handleset.
Spindle Diameter: 1/4" (7mm)
Spindle Length: 2-1/2" (63mm)
Backset: 2-3/8" 
Center of Latches: 6-3/32"
Cross Bore: 2-1/8" - Will fit 1-3/4" hole if spacing tabs are removed
Spring Latch Backset: 2-3/8"
Centerline: Latch & Dead bolt spaced at 6-3/32"
Latch: Square Corner Face plate
Escutcheon Plate: Traditional Style
Door Thickness: Screws fit 1-3/4" door
Keyway: Weiser