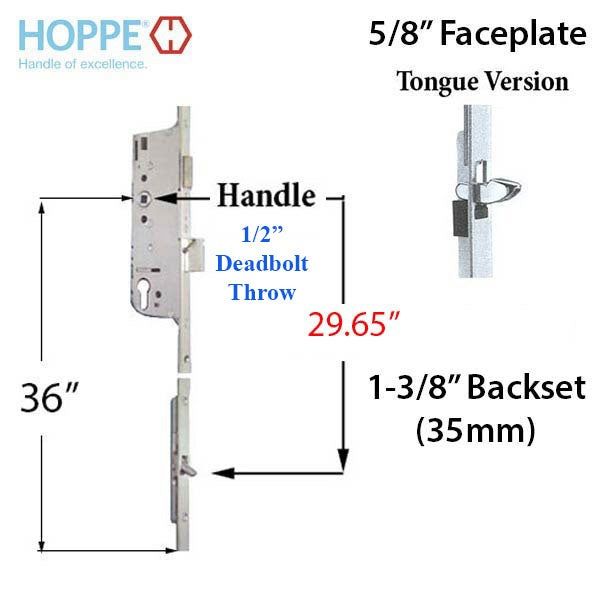 Hoppe Multipoint Lock 16MM Manual 35/92 Gear Tongue At 29.65" 1/2" D/B, 36" HH
Original price
$174.99
-
Original price
$174.99
Hoppe Tongue version, Manual Bottom Gear.
5/8 Stainless Faceplate
1-3/8 inch (35mm) Backset
1/2 inch  (14mm) Deadbolt Throw
29.65 Tongue Position from center of handle,
Handle Height 36 inches
Maximum Cutoff 1.18 inches.
5 screw installation.
Operation:
To lock door, Lift handle and then turn thumb turn or Key to extend deadbolt 
To Unlock door, Turn Thumb turn or key and then depress lever.
To Change Handling / Reversing Latch
Latch handing may be changed by pulling spring latch out and turned in the opposite direction and released. May need to use pliers.
Related Parts for Kolbe and Kolbe Doors:
8778143 - Bottom Gear, 1-3/8 backset, Tongue @ 29.25", 1" Deadbolt
8778563 - Top Extension for 93" door, tongue at 46.97"